Prenatal/Postpartum Low Back Pain
Are You Or Someone You Love Recently Give Birth And Suffering From Low Back Pain?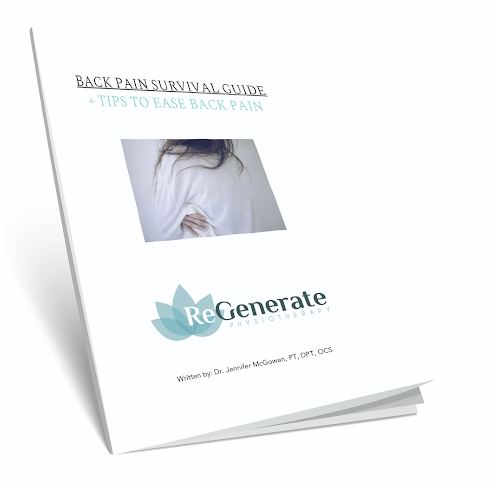 Back Pain Survival Guide +6 Tips to Ease Back Pain.
Just a few pages reveal how to relief your pain tonight…
Privacy Statement: We guarantee 100% privacy. Your information will NOT be shared.
A Personal Message From Specialist Physical Therapist, Jennifer McGowan
Hi, my name is Jennifer McGowan, welcome to ReGenerate Physiotherapy.  
In the next few minutes you are going to discover how as easy it will be get relief from pain, end leaking urine at with working out or running, recovering safe after giving birth.
We now offer online sessions where we can educate you on your movement and tips to improve your ability to stay active without pain or leaking urine from the comfort of your home. 
You'll get tips and tricks how to breathe optimally again, proper posture, proper and efficient body movements, and ways to activate your deep core muscles and pelvic floor musculature to reduce incontinence (leaking urine), and improve form with lifting baby or lifting weights. 
Just enter your first name, your email address and click the "Yes! I Want The Free Phone Consultation".
You'll get a call back within 24 hours on how we can move forward with your goals as a priority. 
​
If your specific situation is urgent please don't hesitant to book your Telehealth session now. 
The goal is to help you get the best use of your time and without the commute into the clinic that could be greater then an hour away. 
With Gratitude,
Jennifer McGowan
Leading Physical Therapist South Of Atlanta
Look Who Else Came To ReGenerate Physiotherapy And Left Feeling Happy, Healthy, And More Active…
When I came for the first visit with Jennifer, I was a scared, hot mess. My body hadn't felt right in a good four years and I was worried I might need surgery. I'd been through physical therapy before, so I trusted the process, but I'd reached a point where PT wasn't helping either. Jennifer listened to all of my fears and patiently explained that none of my fears were physically possible. Then she set up an exercise program tailored for me, and since I have to drive to see her, she scheduled phone calls to check in since I couldn't come see her more than once a month. 
 
At the beginning, I'm not going to lie, I was still skeptical, but I found I liked the yoga she suggested and I was feeling better than I had in a long time. But as I kept up with the exercises at home, and made new progress seeing her, I started to see that everything she explained about my body was true, and I was improving. We set a goal for my PT, and I reached it pretty quickly, and that just gave me more motivation to keep trying. 
 
Jennifer also referred me for myofascial massage, which is the best massage I've ever had, and it perfectly complemented my goals in PT. I feel like Jennifer took the time to understand what works with my lifestyle and personality, and she encouraged me to look at all different facets of my health, not just my pelvis, which had been my only focus for years.  
 
I treated with Jennifer about 7 times, and I have transformed from a sobbing, curled-in lady who felt 45 to feeling like myself in my late 20's again. (I'm 38.) I can't say enough about Jennifer's incredible practice. She has a nurturing, calming presence and a fantastic sense of humor, and that helped me so much emotionally. I felt like I could tell her everything I'd worried about, no matter how embarrassing, and she never flinched. And once I could let go of fear and started moving again, I started to trust my body more, and remember how I used to love to move, and I am honestly a happier person overall because I feel I have my body back. Treating with Jennifer has been an invaluable experience, and I'm so happy I found her. 
I transferred my physical therapy care to Dr. McGowan from another provider, and am very thankful that I did! Not only is she extremely skilled at physical therapy and care for postpartum women, but her expertise in orthopedics has also changed my life! I  have suffered from chronic exercise induced headaches as long as I can remember, something I casually mentioned to her at one of my postpartum visits, and she offered exercises to prevent these in the future-and it's working! It has been fantastic that she is able to accomplish so much in less than 10 visits. Ladies: Pregnancy and childbirth are hard, and they put your body through a lot! You do NOT have to live forever with whatever negative repercussion you may have from going through these things. There is help, and we are SO lucky to have Dr. McGowan on the south side of Atlanta! I feel very fortunate to have found this provider and business and highly recommend her to anyone needing physical therapy
Is Your Low Back Pain Urgent?