What We Treat & How
ReGenerate Physiotherapy
We help women and men
stay active and find lasting relief

from pelvic pain, urine & bowel problems, sexual dysfunction, orthopedic hip/pelvic pain, prenatal and postpartum health.
Pelvic Pain
1 in 5 people struggle with chronic pelvic pain, please know you are not alone. Here are the most common conditions we treat:
Tailbone Pain

Chronic Pelvic Pain Syndrome

Vulvodynia/Vestibulodynia

Penile/Testicular Pain

Interstitial Cystitis or Bladder Pain Syndrome

Chronic Urinary Tract Infections

Chronic Prostatitis

Painful urination/painful pooping

Pudendal Neuralgia

Endometriosis 
Sexual Pain & Dysfunction
Painful penetrative or entry pain

Painful or Difficulty Orgasms

Painful arousal

Pain after sexual activity
Gut & Bowel Dysfunction
Constipation

Fecal leakage or incontinence

Fecal Urgency

Painful pooping

Rectal prolapse or rectocele

Fecal Smearing


Abdominal Pain
Urinary Problems
Interstitial Cystitis or Painful Bladder Syndrome

Urgency urinary leakage

Urinary leakage with cough, laugh, sneeze

Urinary leakage with exercising

Bladder prolapse or cystocele

Difficulty emptying bladder

Overactive bladder
Perinatal Care
Prenatal Care to maintain a healthy & active pregnancy

Birth prepartion for Pelvic Floor

Symphysis Pubis Dysfunction

Urinary Leakage & Urgency

Prolapse symptoms with Pregnancy

Postpartum Recovery- Core & Pelvic Floor Rehab
Diastasis Recti
Low Back/SI joint Pain
Sciatica Pain
Pelvic Floor Rehab
C-section recovery/scar massage
Pelvic Organ Prolapse
Rectal Prolapse or rectocele
Bladder prolapse or cystocele
Vaginal Vault prolapse
Uterine prolapse
Pre-operative & Post-operative prolapse repair rehab
Orthopedic Pelvic/Low Back Pain
Female Athletes – high impact, weight lifters, Tri-athletes
Orthopedic SI joint/Low Back Pain
Pelvic & Abdominal Pain
Unique treatment plan established at the first session, or Evaluation, we believe everyone is unique and needs different strategies to achieve their goal
We offer one on one treatments with our therapists for one hour sessions
We specialize in hands-on treatment – manual therapy with joint mobilizations/manipulations, soft tissue massage techniques, visceral mobilizations, dry needling
Therapeutic exercise to improve posture, strength, flexibility in the clinic and for home
Whole Body Assessment – we assess the whole body and how it is contributing to your pelvic health condition, not just Kegels or isolating the pelvic floor itself
Education on your specific condition to feel empowered and take control of your body again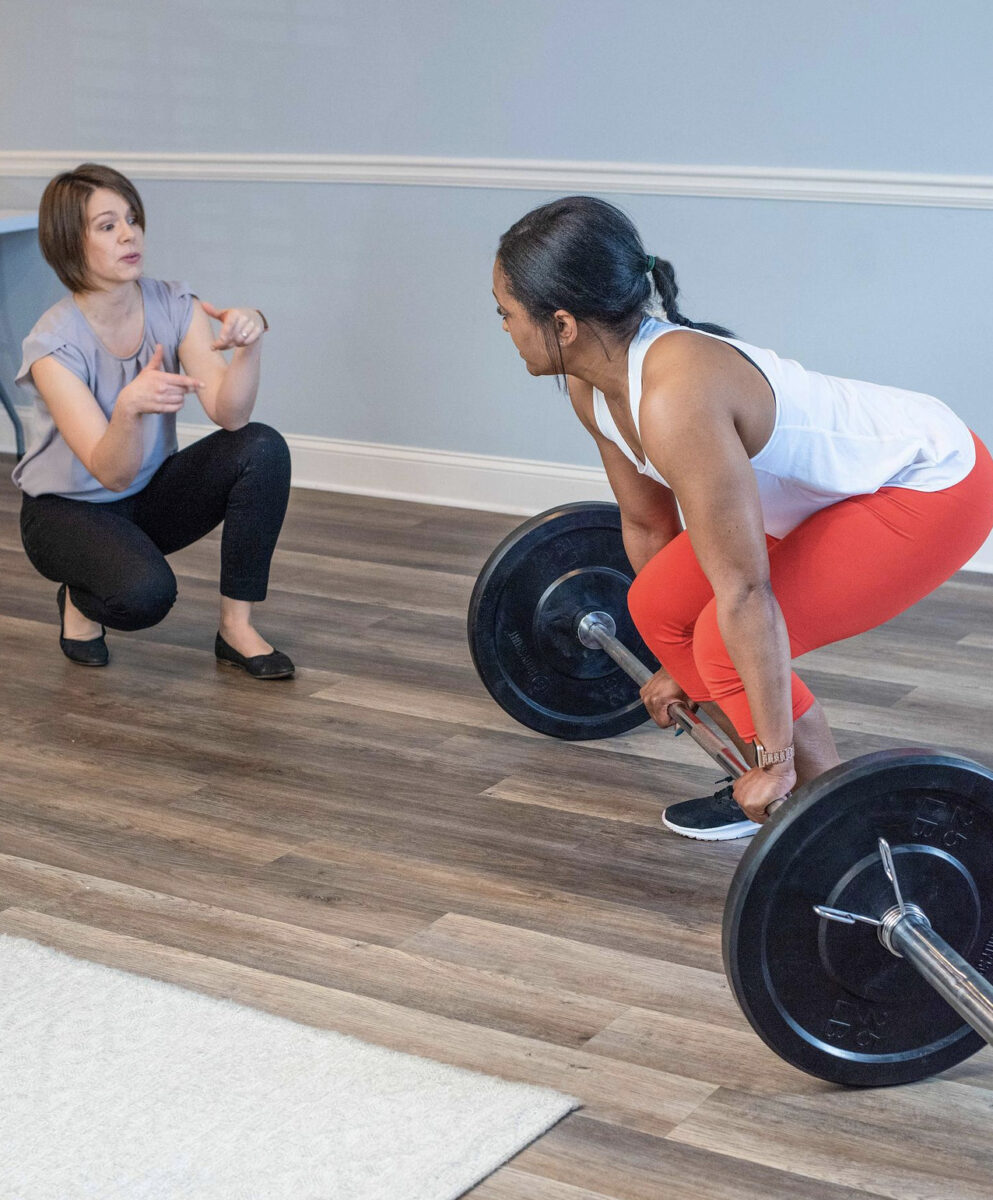 Have an 
urgent need?
Choose which option works best for you:

145 Governors Square, Suite A
Peachtree City, GA 30269